---
LETTIN' YOUR LIGHT SHINE...
You've gotta Let Your Light Shine for the whole World to see!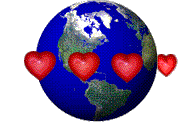 People will pick up on your happy, radiant vibes, and, therefore, YOU can help to cause a CHAIN-REACTION of Peace and Happiness! Sound a bit weird to you, eh?

WELL...TRY IT AND SEE!

Just as it has been proven that bad attitudes are contagious, it has also been proven that happy attitudes work in the same manner.If someone around you is in a bad, grumpy old mood, just keep eminating good vibes (it's a hard task, but, it can be done, my friends!).

A good warrior is never violent.A good fighter is never offensive.A great victor defeats his opponent, but not by challenging him. A great commander is humble. This is called the power of non-contention. This is also called making use of the effort of others.To follow this is to follow the pattern of the subtle law of the universe. - chapter sixty-eight of the Tao Teh Ching

**********************************************************************
<---------------BACK to MAIN PAGE!
NEXT page of this site!-------------->
PAGE #4 of THIS site!---------------->
PAGE #5 of THIS site!------------------>

Hey - I got some Awards! Take a peek at NOT SO OLD BUT FAR-OUT AWARDS if 'ya have an extra few seconds!
"Love hides in the strangest places
Love hides in familiar faces
Love comes when you least expect it
Love hides in narrow corners
Love comes for those who seek it
Love hides inside the rainbow, yeah
Love hides in molecular structures, yeah
Love is the answer..."
-Jim Morrison, "Love Hiders" from The Doors in Concert
---